Steel transports call for solid competence
The volume of SSAB's transports from Turku has increased. The location of the Port is favourable and it provides excellent services to its customers. Steel also needs to be handled very carefully – almost as if it were fragile.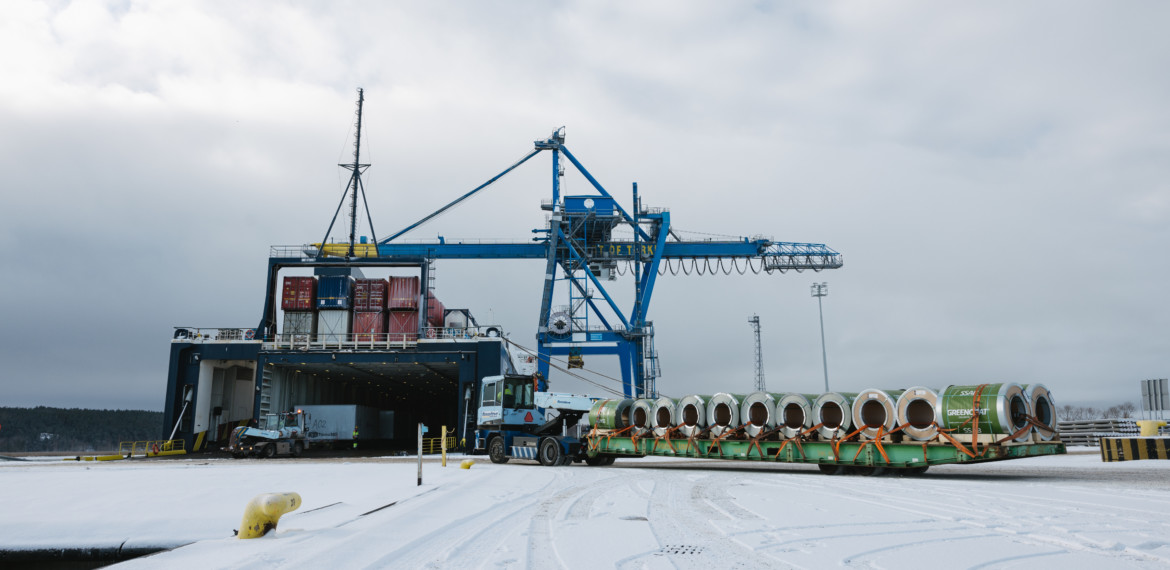 Through the port
Some 70,000 tonnes of SSAB's steel was shipped through the Port of Turku last year. When trailer transports are included, the total volume rises to 100,000 tonnes.
Paula Ojala, Chartering Manager at SSAB says that the volumes are still growing.
"The port of departure of the Spanish line we use was switched from Hanko to Turku this year."
At present, steel is shipped weekly from Turku to Denmark, Norway, England, Holland, and Spain. The majority of the products come from SSAB's Hämeenlinna plant and some from the Raahe plant. The items include steel coils, plates and tubes.
The steel shipped around the world via Turku is destined for the needs of, for instance, automotive, energy and construction industries as well as engineering workshops. It is used in the manufacture of heavy machinery as well as e.g. wind turbines.
Emissions under control
In the future, it will also be possible to export fossil-free steel through Turku.
SSAB is one of the pioneers in the production process in which iron ore is reduced by hydrogen instead of coal and coke, and the hydrogen is generated using green electricity.
Ms Ojala says that SSAB requires that at the same time, the emissions caused by the transport chains of steel be decreased.
"We are making progress in that respect in sea transports. New, environmentally safer fuels are being developed for ships."
SSAB has announced that it will switch to completely fossil-free production gradually approximately by the year 2030.
Port of Turku has many advantages
SSAB also uses other Finnish ports for its steel exports, and above all its own port in Raahe. According to Ms Ojala, Turku has many advantages, though.
"Functioning land transports are essential for steel transports. Turku is easy to access by rail from Hämeenlinna. The Port of Turku also has good liner services and plenty of premises and machinery suited to the handling of steel as well as expertise."
Even a layman understands that heavy-duty cranes and machinery are needed for handling coils that weigh more than 20 tonnes. But at the same time, steel has to be handled with extreme care.
"The products go directly to our customers, and there must not be a single scratch on the surface of the steel plates, for example. Steel also needs to be sheltered from the weather. In Turku the handling of steel has gone very well", Paula Ojala says.
Text: Matti Välimäki
Photo: Ilari Välimäki