Well planned is half done
The pure water system for Meyer's cruise liner under construction arrived in Turku in two shipments by sea. The unloading of massive, asymmetrical, and easily damaged containers requires careful planning beforehand.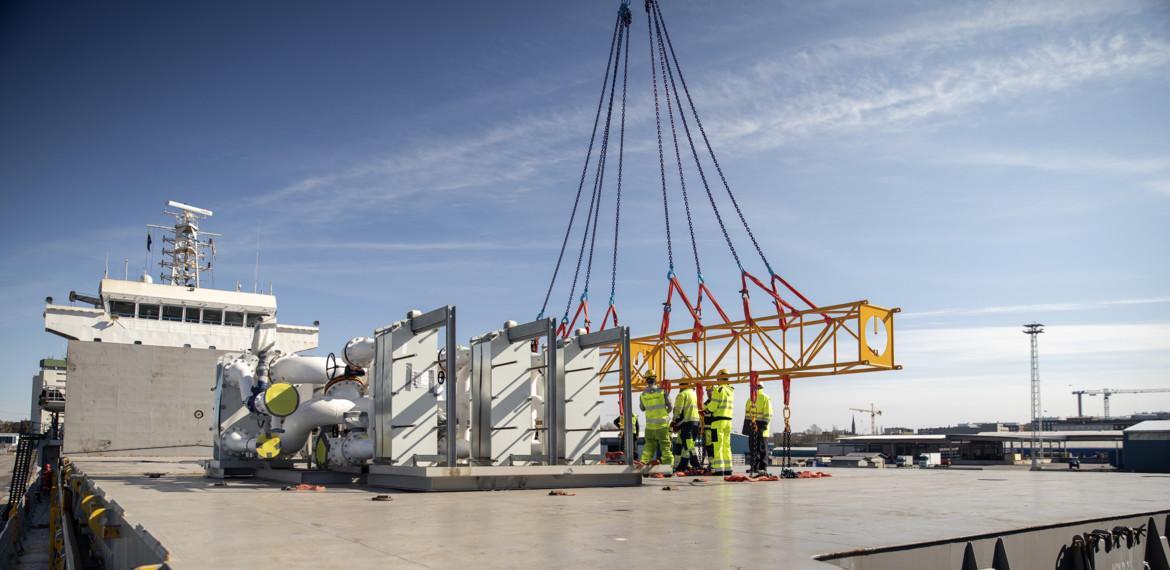 Through the port
The signal man gives a sign to the crane operator. Another pallet begins to rise from M/V Gällnö. It is like a futuristic art installation; there seem to be at least machines and intermingled pipes that go in different directions.

Riika-Maria Iljin, Production Manager of TurkuSteve says that in reality, it is part of a large pure water system that will be placed in Meyer's cruise liner being built in Turku.
A shipload of the same kind of pallets of various forms already arrived from Meyer's Papenburg shipyard a week ago, 25 pallets in total. Today, the ship carries the remaining 17 pallets and a total of 60 pallets of auxiliary materials.
"The biggest pallet was 20 metres long and 7.5 metres wide and weighed 26,000 kilos", Ms. Iljin says.
The lifting of massive and asymmetrical pallets in itself calls for precision. "It is made more difficult by the fact that they are sensitive machine units. The lifting and lowering has to be done even more carefully than usually."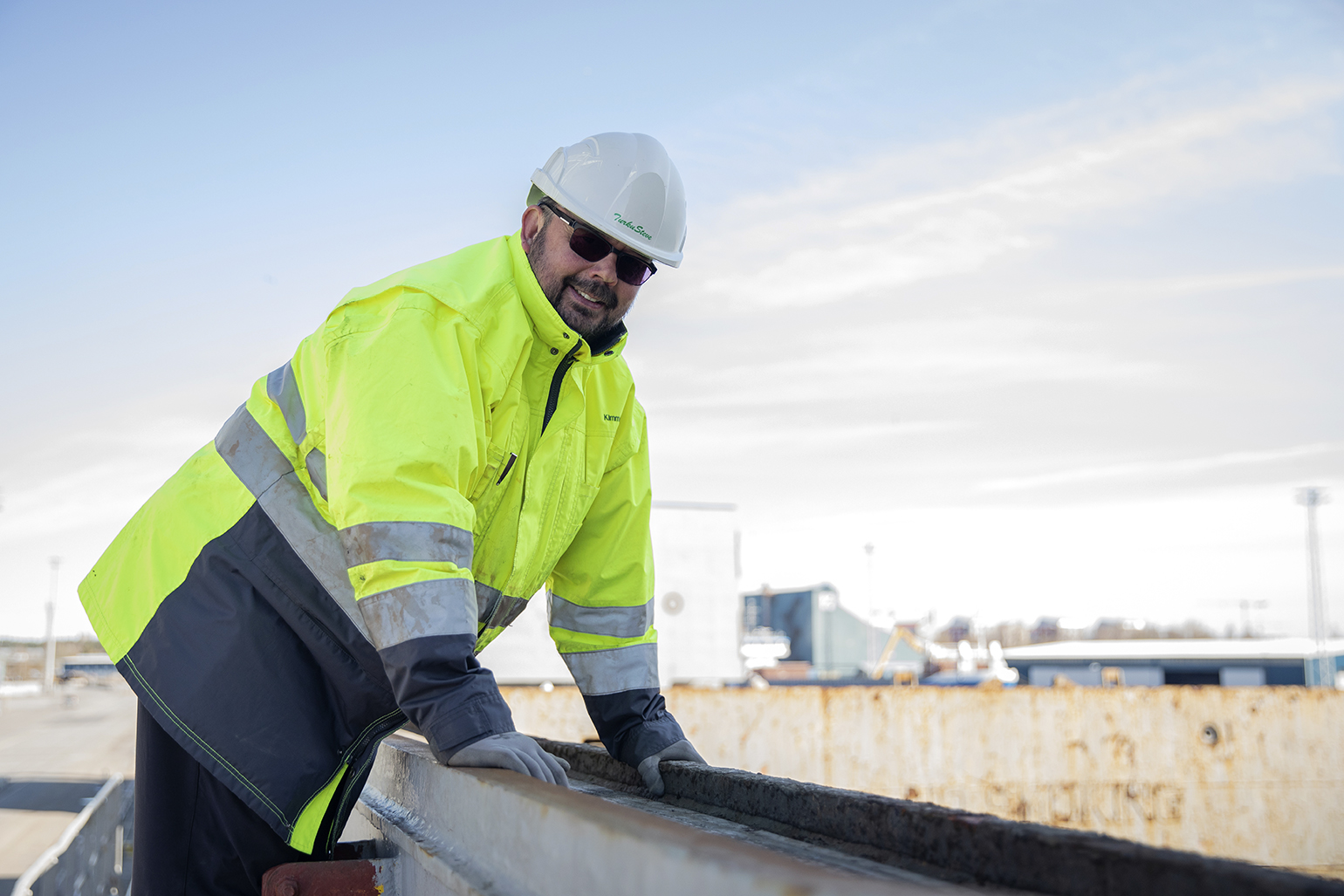 The first of its kind
It is the first time that machine units are brought to Turku by ship.
"We began the preparations for the unloading operation already in the autumn last year when we received drawings of the pallets. Each lifting was planned carefully beforehand", Ms. Iljin says.
In addition to her, the planning involved Technical Director Tomi Kauhanen and Managing Director Kimmo Iljin from TurkuSteve. The unloading plan of the project has been run through in advance and fine-tuned also with TurkuSteve's key personnel.
The management of the shipyard including the owner family has closely followed the demanding operation.
"There are still a couple of pallets left. But you can say already now that everything went excellently."
Securely and faster than estimated
Precise advance planning provided a good setting for the work which allowed for some flexibility.
"We were also able to transfer some pallets from the ship directly to trucks that took them straight to the Turku shipyard. The client saved time and actually got more than they originally asked for."
TurkuSteve has performed the work faster that estimated.
"The advance work also included preparing for different lifting accessories."
Turku is suited to project shipments
Ms. Iljin thinks that the Port of Turku is very well suited to demanding project shipments.
"Turku offers plenty of quay space, outdoor areas for intermediate storage of project shipments, and warehouse space sheltered from the weather. In addition, there are good road connections from Turku to different parts of the country."
TurkuSteve has invested in new lifting gear and equipment in recent years. Its equipment is suited to ordinary stevedoring and logistics work as well as demanding project shipments.
The fixed cranes in the Port of Turku were transferred to TurkuSteve by a sale of business operations at the beginning of March.
Ms. Iljin says that e.g. 50-tonne and 20-tonne X-lift equipment is used with project shipments.
"When using X-lift the pallet being lifted is automatically balanced to the lifting midpoint."
Text: Matti Välimäki
Photos & video: Ilari Välimäki