New Security Manager is starting – well prepared
The newly appointed Security Manager Pauliina Roti has also worked on cargo vessels, transporting iron to the big ports of Antwerp and Rotterdam as well as smaller ones in for example England. It means that she also knows how the security systems work from the point of view of ship crew.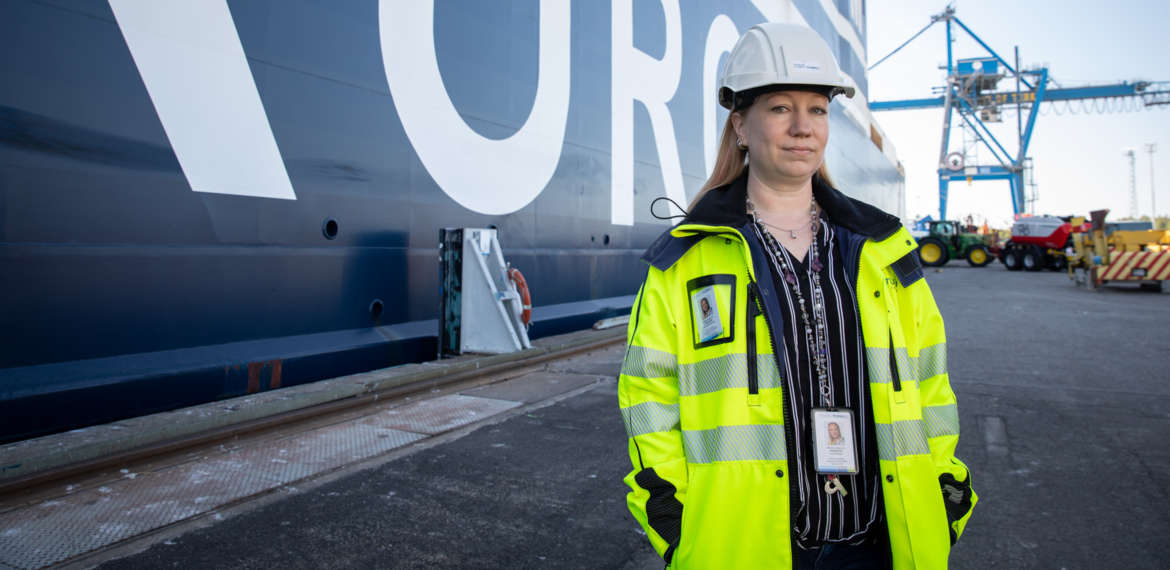 Industry professional
At the beginning of her career, Pauliina Roti wanted to get on the move. The training of a deck officer was a choice she has not regretted.
"It was great to get to know different types of ship at school, ranging from tankers to ro-ro vessels. Bulk cargo vessels were the kind I liked."
Ms Roti spent years at sea at the service of Langh Ship Oy, carrying iron from Finland to Central Europe. There she sailed as an ordinary seaman and says that the crew on the ship became in a way a second family for her. In the end the long shifts with six weeks at sea and six weeks at home turned out to be a difficult combination for starting a family.
"The Port of Turku was looking for a driver for the city ferry Föri. The late Kari Riutta interviewed me for the job. At the end he said right away 'can you start in a week from now?'. I left the interview holding a work jacket and keys."
Since 2006, Ms Roti has been in the Port, and after operating the city ferry she has worked as a handyperson, deputy to Harbour Inspector, and most recently as duty officer in the traffic centre. She is already familiar with access control and the ISPS code that regulates the safety of the Port which are part of the job of the Security Manager. In the future, Ms Roti's duties will also include occupational safety, co-ordination of risk management, cyber security, and follow-up of dangerous goods. She will be working as the Manager of the security services unit which is part of the Port's Operative Department.
In her free time, Pauliina Roti is extremely interested in nutritional therapy: how you can promote your own well-being through food and lifestyle. Nature and sea are also important to her. The most important thing in her life, though, is her 10-year-old son with whom Ms Roti gets to go to football fields in the role of team leader of a little league team.
Text: Sini Silván
Photo: Ilari Välimäki