Economics student's hot summer as a courier
"This is my most fun summer job so far. They give you responsibility and the working is independent, which is really nice", says bicycle courier Cindy Miettinen. She is aware of DHL's goal to be emission-free by 2050. "It's a good start."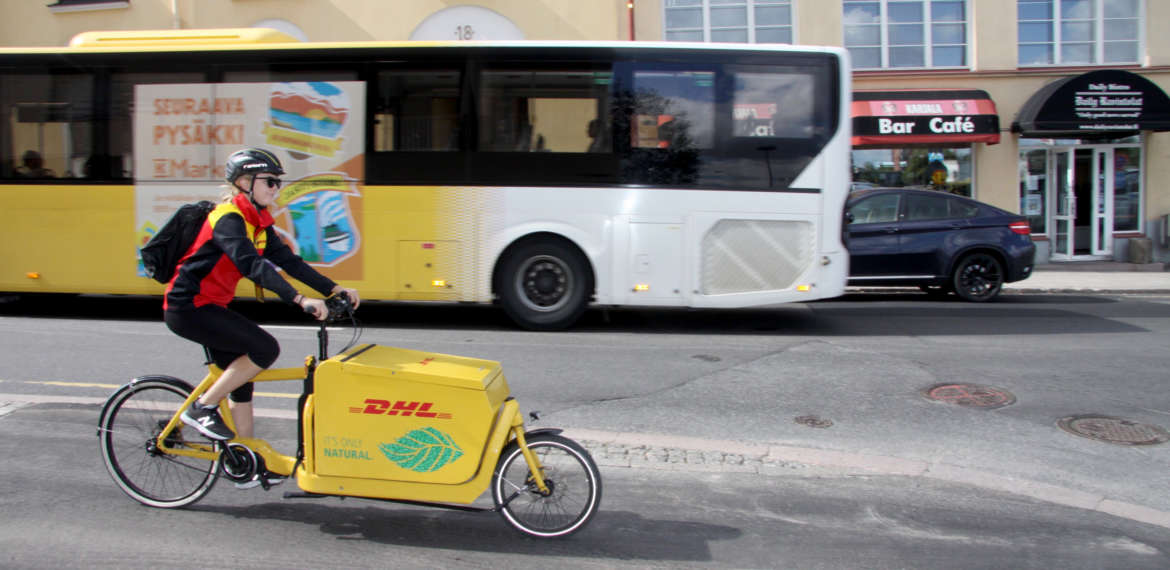 Traffic and logistics
When looking for work for the summer, student Cindy Miettinen found a dream job as a bicycle courier for DHL Express in Turku. "It immediately drew my attention. I like to be outdoors, exercise and cycle. I sent an application and was selected", she says.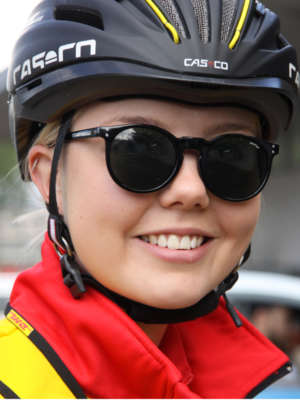 Spinning in the winter, training at the gym and road cycling laid a strong foundation for the courier's job. She has now spent three months on bicycle. On the busiest days she accumulated 35 kilometres in the city-centre plus on some days pedalled 20 kilometres home to Parainen. "The summer has gone really quickly", Ms Miettinen says. With an electric bicycle the courier work is fast-moving. She says that the walking rather than cycling sometimes gets to her soles.
The last mile by bike
The bicycle courier's work day starts when DHL's load arrives in the CityHub on Puutori square. The shipments are delivered to companies located in Turku city-centre during the afternoon. "The first round of the day is quite easy. Often there are the same companies, streets and addresses, and I already have a plan in my head in which order to deliver them. Sometimes it's fun to try whether it's faster on a different route."
The delivery of shipments to private individuals starts at five, and the work day continues until the packages have been delivered. Ms Miettinen's area reaches in practice from the Turku Castle to Logomo.
Ms Miettinen's electric ParCycle has a transport box at front. Her colleague rides on DHL's new model for the summer, CubiCycle with a larger transport box at the back. Those have been in test use in both Turku and Helsinki during the summer.
Excellent summer weather for a courier
"The summer has been great. I can remember only two days with pouring rain, which was not so nice", Ms Miettinen says and chuckles. More than the rider, the rain affected the bicycle as the brakes did not work as well as in dry weather.
"There was a heat wave of seven days, but you don't feel it much when cycling."
Cindy says that the people have a very positive attitude to the bicycle courier. "Many of them are surprised: wow, you came by bike."
Deliveries by bicycle mean less emissions and the bicycle is also more convenient in the city-centre. There's no need to find a parking place, and you can get as close as you want.
CityHub in co-operation with the City of Turku
Janne Appel, Operations Director of DHL Express (Finland) Oy says that the bicycle courier operations are part of DHL's concept of green values. "We are continuously looking for different options for greener deliveries."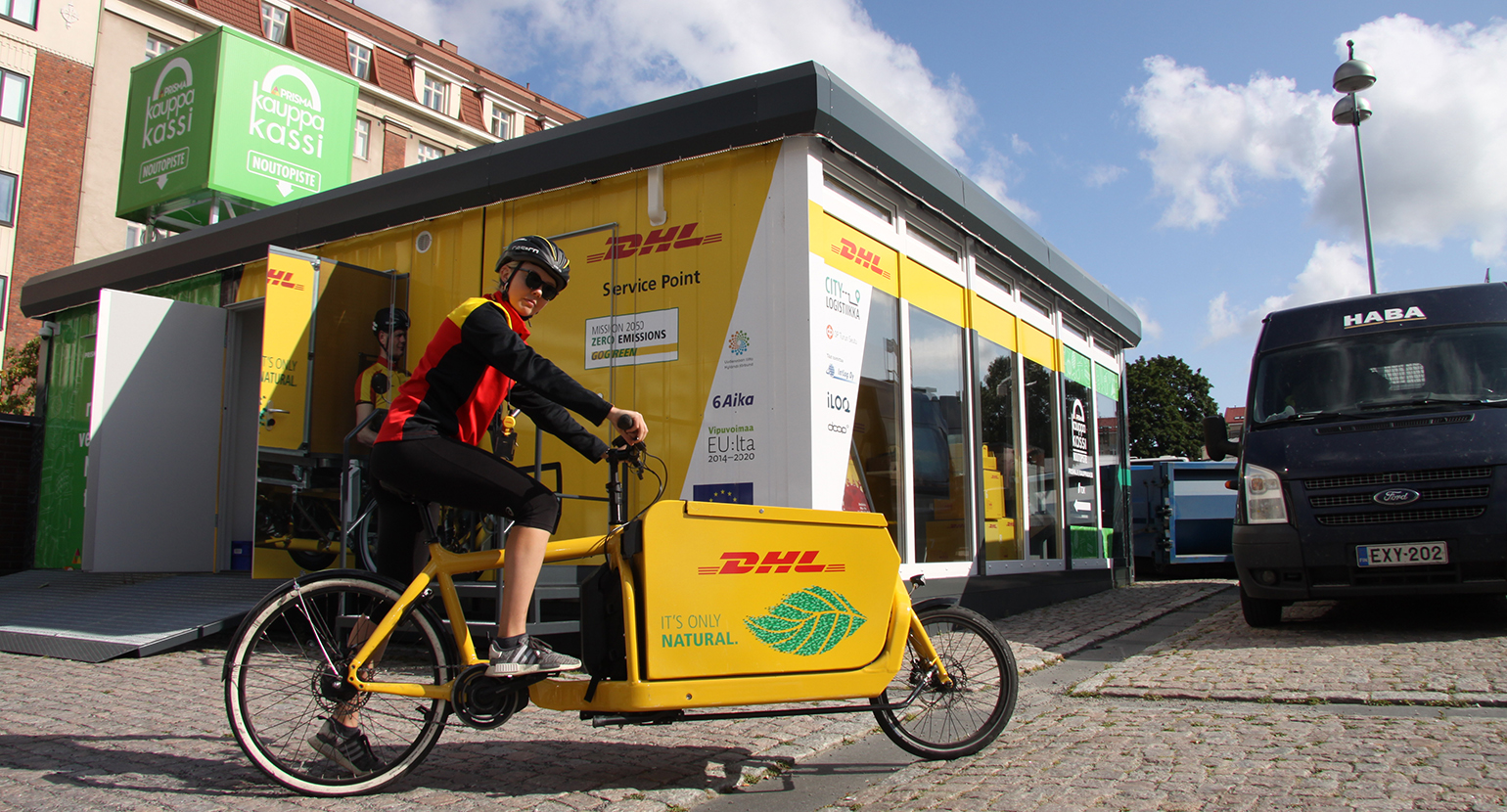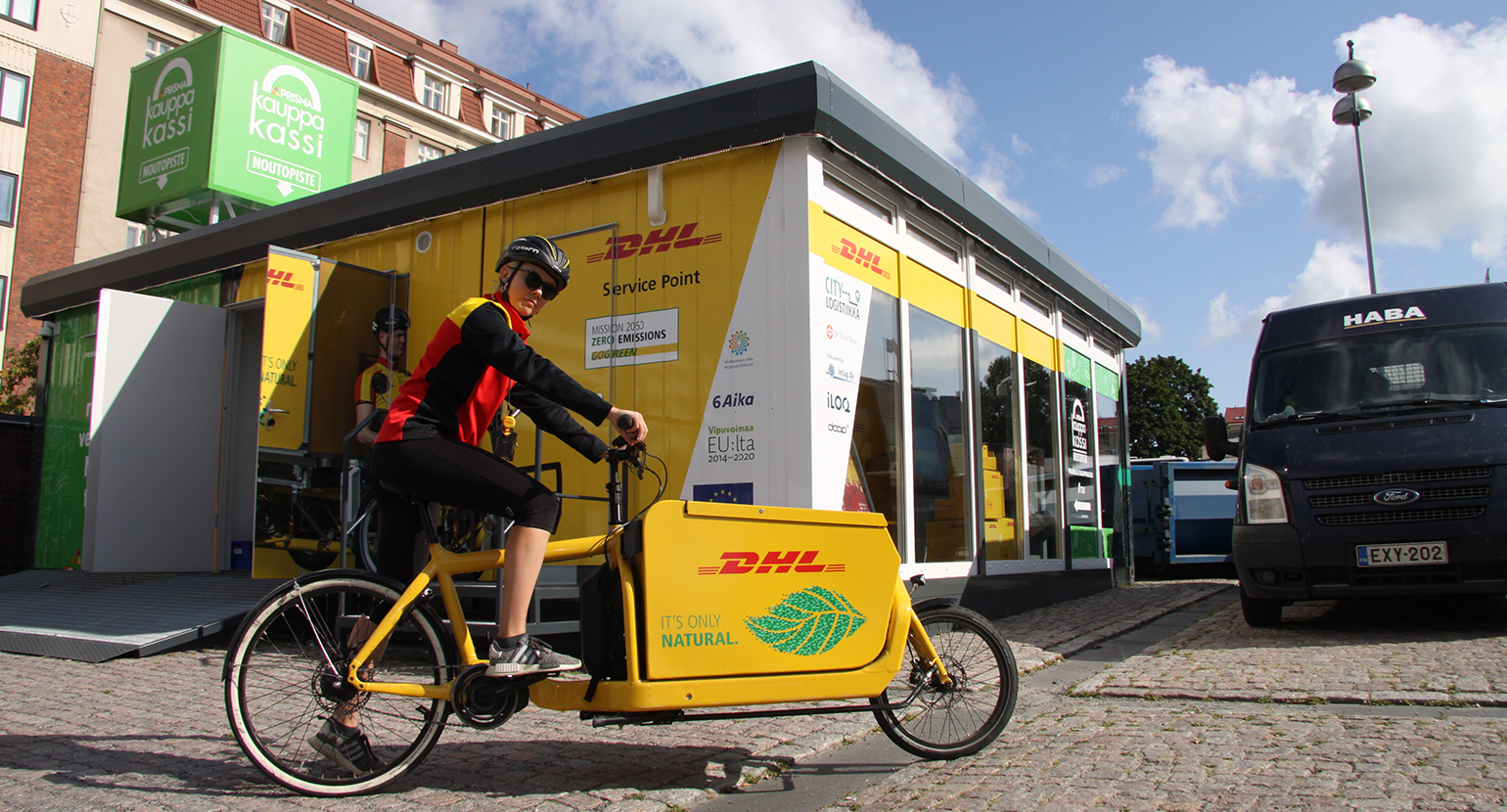 The testing of bicycle courier operations started in Turku two years ago. This summer it expanded into a one-year CityHub pilot which is implemented in co-operation with the City of Turku. "We are very happy with the results. Electric bicycles can cover a large area, and in the city-centre deliveries by bicycle are even faster than by car."
"We have gained very positive experience from the CityHub concept. Our staff has done an excellent job."
Text and photos: Sini Silván
DHL's emission goals
Operating globally in 220 countries, Deutsche Post DHL Group aims at being an emission-free company by 2050.
The means for reaching the goal include e.g. to increase continuously the electric-powered delivery equipment and offer green logistics services the emissions of which are compensated through climate projects. In addition, the company plants annually one million trees.
In the summer, DHL tested in Finland the new CubiCycle bikes with a transport box of one cubic metre.
Bicycle couriers carry mainly documents and packets weighing less than 5 kilos.