Through a guard's eyes the port area is safer than before
Vesa Sinisalo, head of ISS's port security guards, solves most of the emerging problem situations with his positive attitude. The overall security of the area is achieved through close co-operation between different groups of professionals.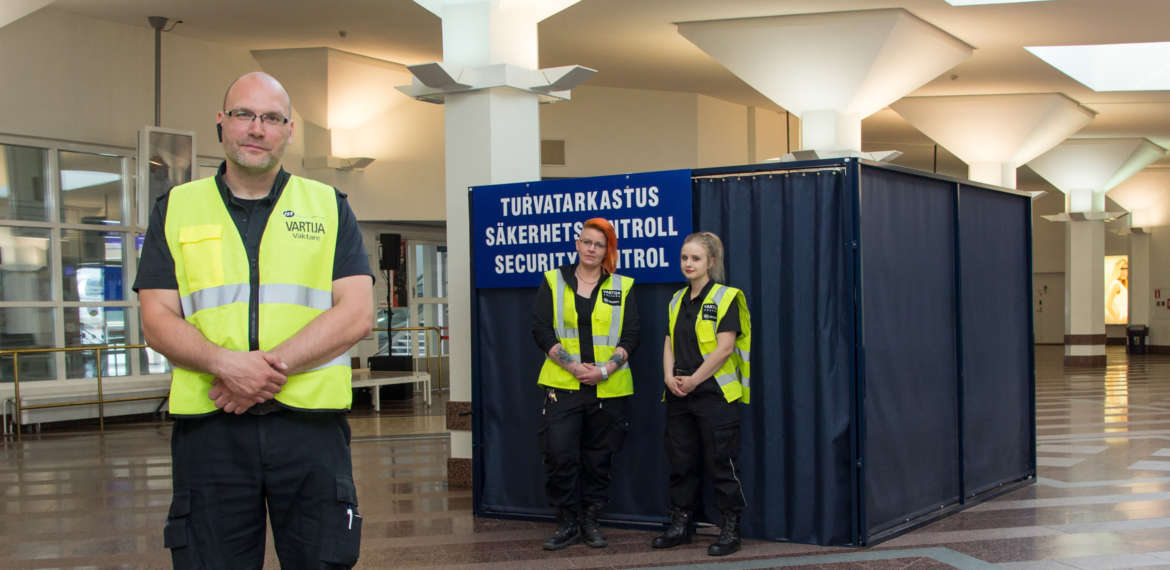 Industry professional
Of the occupational groups in the port, the port supervisors and security guards can perhaps best see what is going on in the area, ranging from the passenger flows carrying their tax-free shopping to the night-time mooring of cargo vessels.
Vesa Sinisalo, head of the security guards, works from time to time as an ISPS guard in the port area and makes surprise checks on the outdoor car storage area. His main task is, however, regular passenger inspections in Viking Line's and Silja Line's terminals.
"Before a shift, we are given a security evaluation prepared by the Port's Shift Supervisor according to which we then stop passengers on a random basis. At night we also assist and substitute port supervisors in receiving cargo vessels", Mr Sinisalo describes his ordinary work shift.
Typically the guards check that the passengers embarking a ship have an official identity card. Disturbances rarely occur in the Port of Turku.
"The most common reason for us to interfere is confiscation of alcohol. Sometimes a passenger may have a small knife in their luggage, but that's usually due to carelessness. The most important element in safety is actually that the guards and checkpoint can be seen from afar."
ISPS has closed parts of the port area
As a guard, Vesa Sinisalo has seen everything and heard all the excuses during his 25 years in security services. Last year, the increased number of refugees was visible at the check-in of the Port of Turku and presented new challenges even to a man with long experience.
"There have been more people who try to get out of or into the country without papers, which has of course affected our work. On the other hand, it still comes as a surprise to many Finns when we ask to see their passport", Mr Sinisalo says.
More than the flow of refugees, the job description of port guards has been changed by the international ISPS port safety code that entered into force in 2004. It has made the port in practice an area restricted from all outside persons where security is determined by strict instructions.
"As a result of the ISPS code, in theory anybody working in the port can stop a person moving in the area if he or she is not wearing a reflective vest or seems to be lost. As a matter of fact it's the duty of every professional."
Right attitude prevents problems
According to Vesa Sinisalo, the port supervisors play a crucial role both for his own work and port safety in general.
"The most important thing is the expert staff that does the background work and security investigations. It's easy for us to come, for example, to the night shift, as the port supervisors do their job perfectly in Turku."
The work philosophy of the experienced guard places anticipation and positive attitude ahead of the multi-stage guidelines for the use of force.
"My motto is that you need to have a twinkle in the eye. Some new employees in this line of business are men full of testosterone who take it awfully seriously. I believe that you can achieve much more by being in a good mood."
Text Jaakko Mikkola
Photos Tuukka Salo
Valid identity documents are always needed on ship cruises
Passengers must prepare for security checks in the terminals, where they should be able to provide valid proof of identity, such as passport or ID card with photo, granted after 1.3.1999 (excluding temporary ID cards). Ship-ping companies and ports follow the ISPS Code (International Ship and Port Facility Security Code), which re-quires shipping companies and port authorities to make random checks of travel documents. The obligation to provide proof of identity applies to all passengers, including children of any age. Those unwilling or unable to provide proof of identity and/or announce their identity upon request will not be allowed on board.
Identity documents to Sweden
Citizens in the Nordic countries are not required to have a passport when travelling within the Nordic region (other foreign nationals are required to travel with a passport). All passengers must however be able to prove their identity with a valid photo ID, for example: Driving licence, passport, KELA card with photo (children un-der the age of 15 may use a KELA card without a photo), ID card with photo.
Other EU citizens:
Passport or ID card with photo (EU approved).
Other countries' citizens:
Passport and visa or residence permit.
Please check the regulations of valid travel documents of the country you are travelling to.